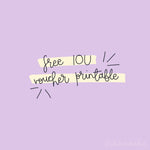 Free IOU Voucher Printable!
Have you got a Christmas present that's caught up in the post and won't arrive in time? Maybe you want to buy someone some tickets but want to wait to see how 2022 pans out, or maybe you're just going to treat them to a meal/day out/adventure in the future... well I've got you covered!


Just download these 'something to look forward to' vouchers, fill it in, cut it out and pop it in a envelope (or wrap it) so you have something to hand over on the big day! 


Anyway, who doesn't want to stretch Christmas out with extra presents in January?! 

Laura x