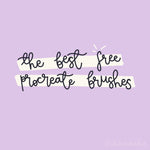 My Fave Free Procreate Brushes
If you've ever searched for Procreate tips, brushes, or anything like that, you'll know you get thousands and thousands of tips, links and videos and it can all be a bit much. Especially when all you want is to try and draw out your favourite Taylor Swift lyric in a slightly fancy way. (Or is that just me?!)
To save you from that endless clicking marathon and the inevitable download of every free Procreate brush on the internet, only to use the same five (again, just me?!) I thought I'd do a roundup of my favourite free brushes, and the ones that you'll actually use.
But first, you might be thinking, 'Laura, I've only had Procreate for seconds, how do I add brushes to Procreate?' Well, young Jedi, let me teach you. It's very simple, you just need a Dropbox account and your iPad.
When you find a brush you want, it'll open in Dropbox or in your iPad files, and you just want to click 'save to my Dropbox', I find that it's useful to have a folder set up in Dropbox just for Procreate brushes so they don't get lost and it's easy to navigate to. Then open Procreate, click the brush tool so you get the list of the ones you already have, then click the plus in the top right. When you get to the next screen, there's a button that says 'Import' in the top right again, click that and then find your Dropbox folder, select the brush you want and Procreate will add it to your brush library ready for you to use! 

But now, on with the brushes!
First up, a good monoline is a MUST, I know one comes with Procreate, and that one is pretty good, but if you can get a couple of others that behave differently, so maybe they go a bit bigger or smaller, or they are smoother you'll always have what you need. 
This Rad & Happy set has a really good monoline brush, and also a classic lettering brush. This is something I rarely use because it's not my style, but if you like the really classic calligraphy style lettering, this one is really good for getting the really thin upstrokes and thicker downstrokes.
I'd also really recommend getting some brushes that allow you to add texture to your drawings. Obviously digital drawing allows you to make your work really crisp and clean, but sometimes you want it to look like it's been drawn on paper with real life art tools, and these ones are perfect for that.
First up is this oil pastels brush set, it's a sample so you get 2 brushes and then you can buy the full set, but the two you get are really good for creating a textured feel. 
Next is this sketchy pencil style brush, this one is really great for finer detail that looks like it's been drawn with a pencil. You can shade with it too, and it's pressure sensitive so you can create a real pencil style drawing.
Half tones like these ones are great for making your work look more like a comic book, or you can play around with them to make a messy, smudged style drawing that looks super realistic. Who knew we'd be purposefully trying to make our drawings look messier?
I also love a Procreate brush that looks like another style of pen. This Copic marker brush looks exactly like the real thing, you can choose any colour to draw in, and it's much cheaper than buying the real pens. Win win! 
This one looks like a BIC ballpoint pen, there's also a colour palette to go with it so you get the four different versions of the original pen. Why is this so fun when BICs cost pennies? I'm not sure, but it is and I love it 😂
Watercolour brushes are a great way of playing around with different styles and textures without the mess! This one has different brushes which act as if different amounts of water have been added to the paint. It would be so impossible to consistently get the right amount of water added to your paint in real life, but with Procreate brushes, you can just select the one you want and go. 
This last one is a fun one to experiment with and see what you come up with. It's an outline of a monoline, so leaves the blank space in the middle. I have had to carefully sit and outline so many of my lettering pieces, so this is a really fun and quick way to do it! 
There are thousandsssssss of free brushes online, as well as tutorials on how to make your own. The ones I've shared are just a few of my faves, but if you're interested in downloading some more, these are my fave places to find them:
The Procreate Forums, especially this thread which has loads on there!
Sign up to Creative Market and check out their free goods for that week, they quite often have Procreate brushes that you normally have to buy, and I have got some of my most used brushes this way.
Hom Sweet Hom (who is a great person to follow on instagram if you want to get into lettering), has a great resource filled with brush samples covering most different styles and textures. This is a good way of trying something out before spending money on a full set of brushes.
You can see me using all of these brushes over on this Instagram reel too :)
Let me know if you use any of these, and if you have any other fave brushes... I'm always up for discovering new ones!
Love,
Laura x