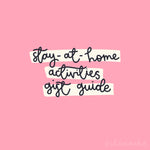 Stay at Home Activities Gift Guide
 We'll be spending quite a bit of time at home for the for the foreseeable future, so I thought I'd a little round up of my favourite craft kits and activity books on Etsy. These are mainly aimed for adults, but I reckon the colouring books would all be fine for kids too.
The prices are all right at the time of writing, but it doesn't include postage charges.
Colour the World - Nicola Rowlands - £3.00
Sunshine Embroidery Kit - Ellbie Co - £18.99
Positive Vibes Colouring & Activity Book - Stacie Swift - £7.00
Sloth Colouring Book - Bronte Laura Illustration - £4.00
Chunky Necklace Kit - Stitching Me Softly - £18.00
A Colouring Book of Houses and Shops - Josephine Dellow - £6.00
Let me know if you've bought any good craft kits or activity books, or if you sell them!

Look after yourselves and those round you,